DIRECTIONS: Trace the route the Diversity Bus takes as it travels across the country by marking each stop the bus will make and connecting the dots. Use the list of places the bus will visit at the bottom of the page to help you create your map.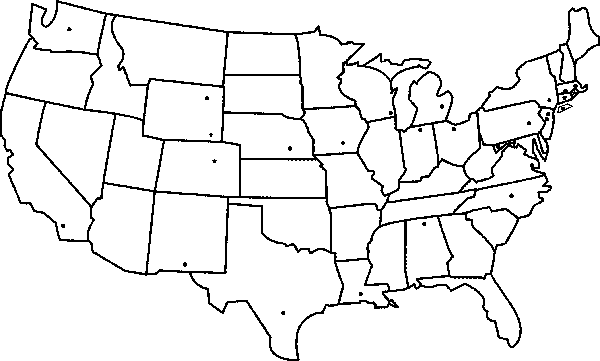 C.A.R.E.-A-VAN STOPS!
Pittsboro, North Carolina
Madison, Alabama
San Antonio, Texas
Las Cruces, New Mexico
Lafayette, Louisiana
Denver, Colorado
Harvard, Nebraska
Ottumwa, Iowa
Kenosha, Wisconsin
Grand Blanc, Michigan
Cheyenne, Wyoming
Granger, Indiana
Sandusky, Ohio
Kutztown, Pennsylvania
Williamsburg, Virginia
Accident, Maryland
Bridgewater, New Jersey
Livingston, New Jersey
Ellenville, New York
Lawrence, New York
Medfield, Massachusetts
Temecula, California
Providence, Rhode Island
Gillette, Wyoming
Wenatchee, Washington
East Longmeadow, Massachusetts
Extension activities: Mark the location of each state capital on the map with a star. Research print and online resources to learn more about the communities the bus visits. Use information from the U.S. Census Bureau to create a graph about the people who live in each state.
© 2000 by Education World®. Permission is granted to teachers to reproduce this skill page for classroom use.